Phillips Farm Giant Pumpkin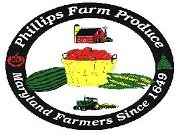 Now we must prepare the soil. Larger pumpkins are big eaters. We will dig a 4x4 foot pit for each plant- remove all the soil and replace it with cow manure and compost. This will give the plant good nutrient and loose soil for good root development. Next we will put 6 inches of compost over the rest of the growing area and till it in.

The farm has animals, haystacks to climb and hayrides to the pumpkin patch. Come Enjoy our attempt to grow the largest pumpkin in Maryand this Fall!
Latest Reviews
There are no reviews for this listing yet!