Busy Barns Adventure Farm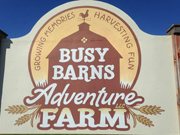 Busy Barns Adventure Farm happily invites you and your family to join us for our Fall Autumn Adventures. Acres of Adventures & Hours of Fun! Busy Barns Farm Fort Atkinson WI been identified: as a top pumpkin patch and Adventure Farm in Southern WI. Plan your Family Fall Visit today. Experience the Hay wagon ride to the pumpkin patch, pick your perfect pumpkin, participate in the Rooster Rustle, Puppet Show and find your way through the Corn Maze.

Make plans to spend the day on the farm as you interact with the animals, play in the corn and straw, sit on the antique tractors, take in a puppet show, scurry down the rabbit hole slide, sway on the pony swings, conquer the corn maze & enjoy yummy food and drinks.

Autumn Adventures:

Pumpkin Patch & Corn Maze:
Its fall and that means the fields full of pumpkins, squash, flowering mums and lots of fall decor! Take a hayride out to the u-pick pumpkin patch to select your perfect jack-o-lantern. Visit the animal barn to feed and hold the baby goats, view the baby animals and test your skills at hustling hogs. Launch mini-pumpkins and gourds in the launcher and conquer the 4-acre trivia corn maze. We look forward to seeing you this fall!

Other Adventures & Activities:

Farm Animals: Visit, touch and feed all of the farm animals.

Tractor Drawn Hayride: Visit the farm fields for egg collecting or to select the perfect pumpkin.

Rocking Goat and Donkey: Little farmers can rock and ride wooden farm animals.

Large Straw Bale Climb: Jump across large straw bales.

Antique Tractors: Sit on restored antique tractors.

Corn Box Play: Bury yourself in the shell corn box.

Bunny Tunnel:Go through the bunny's head and come out the bunny's tail. (spring)

Corn Stalk Cavern: Walk through the mouth of Dracula and Frankenstein in the cavern. (fall)

Holly the Holstein: Milk Holly the simulated cow as she "moo's".

Scavenger Hunts: Clue cards are presented as you enter the farm. (spring)

Trivia Corn Maze: Test your farm knowledge in the 5-acre trivia corn maze. (fall)

Rabbit Hole Slide: Scurry down the 20-foot tunnel slide. Hold onto your mat, it's fast.

Egg Collecting Field: Take a hayride out to the field to collect 12 colorful eggs. (spring)

U-Pick Pumpkin Patch: Take a hayride out to the patch to find the perfect carving pumpkin. (fall)

Rodeo Roping: Test your cowboy skills as you lasso a bull head.

Farm Plinko: Send your eggs down the farm plinko board. (spring)

Rat Racers: Race back and forth as you make a 4-foot culvert roll down the track.

Discovery Nesting Box: Reach in a chicken's nesting box to discover a product of agriculture.

Rooster Rustle: Shoo chickens into hen houses. Sat. & Sun. 11:00, 1:00 & 3:00 (spring)

Hog Hustle: Chase a piglet and grab a flag. (fall)

Straw Play Straw Play Barn: Climb up and over the straw bales. Then go down the 20-foot tunnel slide.

Bolt Table: Find the right size blot to fit the correct sized nut.

Pony Swings: Twist, swing and sway away on the horse tire swings.

Trike Track: Pedal around the figure eight course on a tricycle.

Obstacle Course: Concur the side-by-side racing obstacle course.

Tractor Tire Trail: Climb through, on and around the tractor tire trail.

Western Horses: Sit on real saddles and pretend to ride these neat western horses.

Music Garden: Pound on pipes, gears, washboards and barrels to make music.

Rope Maze: Hook on to a colored rope. Then crawl up & down, over & under, in & out.

Can Stilts: Can you walk in cans!? Grow a little taller wearing can stilts.

Potato & Pumpkin Launcher: Launch potatoes or pumpkins into the field and hit the targets.

Math Maze: Is arithmetic your strength? This math maze will test your skills.

Bee Barn: Watch honeybees working in an observation hive and find the Queen.

Busy Barns Adventure Farm - Fun for the Whole Family
Latest Reviews
There are no reviews for this listing yet!