DeBuck's Corn Maze & Pumpkin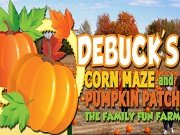 If you have never been to a Corn Maze, simply imagine a twisting, winding trail through a giant field of corn stalks so tall they nearly block out the sunlight. Suddenly the trail goes in three different directions—do you go left, right, or straight ahead? Only one trail is right, and only the right decisions will get you out of the maze! Our Giant Maze covers 13 Acres! If you like mazes, exploring one at night by flashlight is a truly exciting adventure!

Pick your own pumpkins right from the field when you visit DeBuck's Corn Maze and Pumpkin Patch. Wagon Rides to Pumpkin Patch end at dusk. With 18 acres of pumpkins in every size and shape imaginable. We have big ones, tiny ones, fat ones and tall ones. We have beautiful, round smooth pumpkins, and gnarly pumpkins with warts that seem to already have their own faces looking back at you.
Latest Reviews
There are no reviews for this listing yet!