Jahn's Pumpkin Hill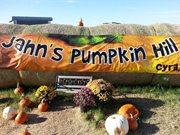 Jahn's Pumpkin Hill is Southwestern Oklahoma's premier pumpkin patch. Guests will experience an educational adventure in agriculture. A visit to Pumpkin Hill is the perfect field trip for young students including home schoolers, church groups and scouts. Pumpkin Hill also makes a memorable family outing.

Guests at Jahn's Pumpkin Hill may explore:

The Pumpkin Patch - We sell a variety of pumpkins for your decorating needs.

Farm Education - Learn about farming, ranching, farm animals, and find out how food gets from our farm to your plate. We give a great tour.

Jahn's Petting Zoo - You may get up close to feed and pet our animals. Look for sheep, goats, cows, pigs, chickens, and maybe a horse or two.

Jahn's Pumpkin Hill is an affordable agricultural adventure for families and school groups. Good wholesome family fun!


Latest Reviews
There are no reviews for this listing yet!