Ozark Corn Maze & Pumpkin Patch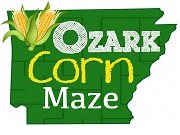 You will enjoy getting lost in our 3 fun corn mazes! Take a short walk out to the pumpkin patch and pick your own pumpkins and take some fun fall photos. Pet and feed the animals at the petting zoo. Test out your shooting skills at our corn cannon. Take a ride on the animal train where you can choose to ride a HAWG, horse or cow!

Our Pumpkin patch is inside the farm. You must pay admission to farm to go to the pumpkin patch.

We have many different varieties and sizes to choose from! Pumpkins prices vary depending on size and variety.
Latest Reviews
Love supporting local businesses but would like to see a few things addressed at this one. I'll start with parking. Good luck figuring this out. One of rows where you could park has the long line of people waiting to get in so that ones out. The long line could have been alleviated If somebody would have been directing that line to split into two lines since there are two ticket windows. Also, the sweet little ladies at the counter could just hand the adults the arm bracelets and let people get out of the way instead of putting them on everyone themselves. Once inside off to the corn cannon and it was out order. Paid extra to that one. Overall pretty average especially for the cost. My friend paid almost 60.00 thankfully I only paid 12.00.

Posted Oct 2018