Polly's Pumpkin Patch & Corn Maze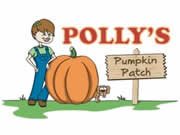 The Corn Maze is open and ready for you! Come have an fun filled adventure finding your way out! Then enjoy all of our fun activities!

Polly's Pumpkin Patch is a great place to get Pumpkins, fall decorations and other amazing WI products. But it doesn't end there! We have lots of fun activities too!

Corn Maze:
15 Acres of fun, "Don't just get lost, make it an fun adventure at Polly's.
TWO Mazes! TWO different games! TWO different experiences! All for ONE price!

At Polly's, this year will again be the place for a day (or night) in the maze! Conveniently located, on the Eastern fringe of the Fox Valley, and a short drive from the Appleton, Manitowoc, Fond du lac and Green Bay areas, Polly's offers a fun filled day down on the farm! Last year, families told us we had the best maze they have ever been thru!

Our corn maze is ready to explore and we promise your family will have a fun and exciting family outing. Our maze this year is actually two different mazes with two different games to play with two different experiences.

Maze #1
There are 17 check points hidden throughout the maze. Uniquely shaped paper punches await the players at each station. Players search the field to find all of these stations and punch your card as proof of completing the game. The challenge is to get all the punches but is not required.

Maze #2
Adventures of Dottie continue this year. You asked and we listened.This maze is geared for younger kids. It's easier to navigate and we have Dotties friends marked on your map, so you can find them easier!

Polly's Pets:
Come visit our barnyard to see our friends! Goats, cows, and pigs!

Family Fun Center:
Polly's is more then great locally grown produce, corn, pumpkins and corn mazes! This fall, Polly's has added tons of fun activities for kids of all ages! With fun activities like a 40 foot Slide, Duck Races, Hay Bale Climb, Corn Cannons, Rope Maze, Pumpkin Bowling and more, Polly's offers a full day of fun to all! Please leave a donation in the box for maintaining our activities.

40 Foot Slide:
You're never to old to be a kid, why should they have all the fun! Big kids love this slide too! Even my 87 year old Dad went down it.
Super fast and fun!

Wagon Rides:
A favorite fall tradition of many generations of families is to head out each fall and pick your own pumpkins. Now you can enjoy a tractor drawn wagon ride through the pumpkin patch and cornfields at Polly's to heighten the experience. A perfect addition to memories your kids will have that will last a lifetime..

Corn Cannons at Polly's:
Come have fun launching corn cobs at targets for prizes. No matter what age, it is fun for the entire family. Come on out and "Have a Blast at POLLY'S" where we have 3 cannons ready for your fun and chance to win.

Polly's Corn Maze 2014 Video
Latest Reviews
There are no reviews for this listing yet!