Queen Anne Farm Pumpkin Patch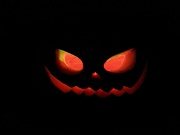 A Traditional Pumpkin Patch...
and a Family Tradition!

Family fun begins with a ride around the farm on a tractor-pulled haywagon, zeroing in on the pumpkin patch, and the quest for the perfect pumpkin!

Young children race from pumpkin to pumpkin through the pumpkin patch, while the parents and older siblings often move slowly from one pumpkin to the next, imagining the carving for each individual jack-o-lantern.

Whatever your approach, our pumpkin patch lets you enjoy nature at its finest while you explore seven varieties of the big orange pumpkins, as well as six different varieties of heirloom pumpkins-white, and grey, and bumpy and tall.

Our Queen Anne pumpkins range in size from a tiny 2 ounces, to over 200 pounds!

Children's Maize and the Pumpkin House

Together your family can explore the Pumpkin House, and be sure to bring your cameras to pose for annual photos there and in front of our giant critters and straw farm animals.

We also have lots of places to run, climb, and thrive on the country fresh air.

The Petting Corral has a number of animals for the children to learn about. Everyone enjoys petting the lambs and goats. As for the rooster-he likes to be admired, but certainly not stroked!

Full Day at the Farm

Our relaxed, country store has all of your Halloween and pumpkin carving needs: carving kits with the latest jack-o-lantern patterns, candles, pumpkin paints, witches hats, and much more.

You'll also delight in the array of farm fresh vegetables, with many varieties of tasty and unique squash, several varieties of sweet potatoes, Maryland apples, and a variety of jams and jellies.

Finally, check out our variety of fall decorations, including corn shocks, hay bales, mums, Indian Corn, and a vast variety of gourds in all colors and sizes.
Latest Reviews
There are no reviews for this listing yet!