Rodoni Farms Pumpkin Patch and Corn Maze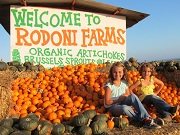 Pumpkins are HERE!!

Pumpkins and fun are what it's all about! Come roam through the fields of pumpkins. There are so many varieties to choose from! We have hay bales, scary cutouts, and a 5 acre corn maze! We also have fresh Brussels sprouts on the stalk, artichokes, corn stalks, and gourds.

**Pumpkins are priced by size, not weight.

Choosing your pumpkin:
There are two methods of choosing your pumpkin to carve. The first way is my favorite. As you stroll through the pumpkin patch a certain individual pumpkin will jump out at you! That's the ONE! The other method is to have a pattern or face in mind and look for a pumpkin that will work with your design. Usually a large stem makes a nice addition to the pumpkin.
Remember!. The more unusual the better!
Latest Reviews
There are no reviews for this listing yet!