St. Bart's Pumpkin Patch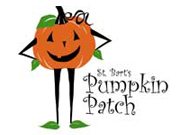 For many years Saint Bartholomew's Episcopal Church has become known as the Pumpkin Patch Church in North Augusta and throughout the CSRA. The Pumpkin Patch is an important ministry for Saint Bart's and reaches throughout so many parts of our church family & community:

Our pumpkins are purchased in South Carolina at Cotton Hills Farms in Chester, SC and we are a Certified South Carolina Pumpkin Patch, and the pumpkins are absolutely beautiful this year! The Pumpkin Patch serves as a community outreach in several ways. First and foremost we have truly become a family tradition for so many who come each and every year to pick out their pumpkins! Also, more than 800 school children will come to Saint Bart's for Story Hour during the month of October from area schools and pre-schools.

The Pumpkin Patch is a coming together for our own church family, with a crew of well over 100 people working to put the program together, unloading the pumpkins and staffing the sales tables. We also have several large events for during October including a worship service in the patch on October 18th at 11:30am featuring Bluegrass Music from the Simple Gifts Worship Team and lunch and fellowship following.

All the money raised from pumpkin sales will stay in North Augusta. The Pumpkin Patch raises dollars for many ministries and missions work throughout Saint Bartholomew's.






Latest Reviews
There are no reviews for this listing yet!