Roba Family Farms Harvest Festival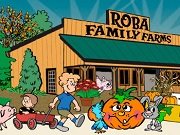 Families and friends gather together amidst the beauty of autumn's finest colors to enjoy a day on the farm. The attractions, special events, and activities are sure to create memories worth repeating. Take the hay wagon for a ride out to the Pumpkin Patch where folks can pick a perfect pumpkin, all shapes and sizes, and in several different varieties, too. The hayride takes you on a tour of our scenic Northeastern Pennsylvania farm around the crackling campfires, past the Country Store ... and more Farm Animal Center is a favorite of young children, where they can feed and pet the farm animals such as llamas, sheep and goats. Kid's Corral is a play area where children of all ages can enjoy hours of fun in a wooden fort, a wooden train replica, and giant tractor. Farm Discovery Center to learn fun things about life on the farm, Take a ride on the Kiddie Kattle Train (weekends and Columbus Day only) for a delightful exploration of the farm!

Bunches of bunnies make their home in BunnyVille at Roba Family Farms! It's a cozy miniature town that's just bunny-sized, with homes and shops and a lake. Hop around with the residents -- you can pet and feed them, too! Our 5-acre cornfield maze is a family Fall fun extravaganza! Get lost day or night. We have Moonlight Flashlight Maze Adventures, a mini-maze for our mini-visitors, and a hay maze for everyone to poke around in.
Latest Reviews
There are no reviews for this listing yet!